An emperor is a monarch, usually the sovereign ruler of an empire or another type of imperial realm. Empress, the female equivalent, may indicate either an emperor's wife (empress consort), mother (empress dowager), or a woman who rules in her own right (empress regnant). Emperors are generally recognized to be of a higher honour and rank than kings.
Castaire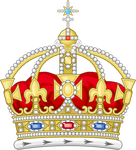 Empereur and Impératrice
The Empereur de Castaire is the ruling monarch of Castaire and thus the head of state. The castairien law only knows the title Empereur, though the female equivalent Impératrice is commonly used for the wives of the Empereur. Being a rather ancient documentation of merely traditions, the castairien law does not forbid the female succession at all, though it was common to use a male-preferring primogeniture to determine the next Empereur. Thus, Castaire had only Empereurs until today. This was changed with Stéphane IV succeeding to the throne in 1745. As he and Belle had a daughter (Princesse Lukrezia), he decreed to pass the male-preferring primogeniture to an absolute one, where the sex doesn't matter. Thus, the next (and first personally reigning by her right of birth) Impératrice will be Lukrezia I.
Powers and prerogatives
He is endowed with nearly absolute power. His special rank as an even higher monarch than all the kings is derivated from the self-conception as the supreme head of all cadrielistic people in the world which made up the need for a representative title.

List of the Castairian Empereurs:
Castorian I (1180 - 1214)
Césaire I (1214 - 1234)
Césaire II (1234 - 1274)
Stéphane I (1274 - 1317)
Constant I (1317 - 1328)
Constant II (1328 - 1346)
Stéphane II (1346 - 1396)
Constant III (1396 - 1415)
Constant IV (1415 - 1424)
Césaire III (1424 - 1477)
Stéphane III (1477 - 1482)
Célestin I (1482 - 1510)
Célestin II (1510 - 1520)
Claude (1520 - 1534) & Célestin III (1534 - 1576)
Célestin IV (1576 - 1614)
Célestin V (1614 - 1658)
Célestin VI (1658 - 1678)
Nathanaël I (1678 - 1712)
Nathanaël II (1712 - 1745)
Stéphane IV (reigning since 1745)
Community content is available under
CC-BY-SA
unless otherwise noted.