Capitale Impériale Lucrécy

Nation
Country
Region
Empire of Castaire
Chastain
Le Grand Lucrécy

Politics

Mayor
(1750 - present)
Gustave Cardonnaire

Facts and Figures

Population (Dec. 1760)
256.720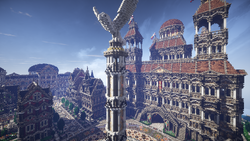 Lucrécy (pronounciation: [lukʁesi]) is the capital of the Empire de Castaire and also its most populous city. Located at the western coast of the castairian terrioty, it lies within the constituent state Chastain, which is an incorporated kingdom and the personal country of the Empereur. Its position near the mouth of the river Violaine predestinated it as an important hub for both land and ship traffic. Furthermore, Lucrécy accommodates the Imperial Government as well as the Empereurs Palace, Palais Castaire.
History
Soon after the establishment of the Empire of Castaire, there was an urgent need for a new capital to represent the absolute power of the monarchy. Empereur Castorian I ordered a corps of architects to develops blueprints for a planned city at the coast of Mare Miraculum, near the mouth of the major river Violaine. The architects started planning in 1453 and the construction of the first streets was envisaged for November 1455. This, however, wasn't achieved, as the cold winter made any building tasks nearly impossible, so construction finally started in spring 1456. The city got the name of Castorians beloved wife, Empress Lucrécia in a slightly adapted version, "Lucrécy".

In the following years, Lucrécy developed into a prosperous city. Prince Célestin I started with the actual planning of representative buildings in the capital, while the actual Imperial Palace was located in Mallais, a town near the old residence in the mountain castle of the Sacrecouronnes. At his will, the cathedral in the center of Lucrécy was built, and furthermore, he ordered to plain the fields at the western side of the Violaine, where, after several more centuries, finally Palais Castaire will be situated.
Geography
AS
Climate
Administration
City government
Imperial government
Police force
Cityscape
Urbanism and architecture
Housing
Demographics
Religion
Economy
Employment
Incomes
Sights
Culture
Painting and sculpture
Museums
Theatre
Literature
Music
Fashion
Holidays and festivals
Education
Libraries
Churches
Infrastructure
Transportation
Electricity
Water and sanitation
Parks and gardens
Cemeteries
Healthcare